Didn't you hear?? Ric Flair, former World Wrestling Federation Superstar, 2 time world champion, got a captain's pick this year? The Nature Boy made the team and will be fighting Paul Casey for another shot at the world championship.
What? He retired? He doesn't play golf? Then what the hell am I talking about?
Oh that's right, Rickie Flare. Not Ric. Duh.
Rickie Fowler has flare, and is a much better golfer than Ric Flair. He is certainly a much better Ryder Cup pick.
At 22, Fowler definitely qualifies as one of those "young guns" on tour. He's flashy, recognizable, personable, and a spectacular player.
But what makes Fowler so appealing is that he plays the game like you and I. He's not a technical golfer. His swing is unconventional. And when he's on a drivable par four, he always has driver in his hands, even if it's not the best idea. You've gotta love him for that.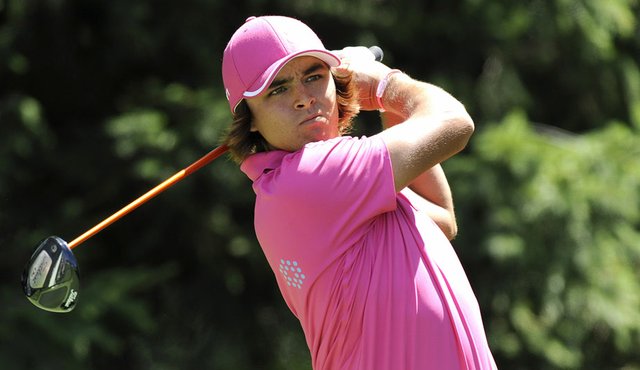 What I like best about Fowler is that he's his own ridiculous person, and he owns it. Much like Ric Flair, he is comfortable just being himself, dressing his own way, and showing his own personal style.
The golfing media loves talking about Rickie's motorcross background, which is certainly unique. Growing up in Southern California, just north of the Grizzly's home town of San Diego, Fowler started his life on a dirt bike, not a golf course. A natural athlete, he quickly became a regional sensation in the small world of dirt bike racing. He was fearless and talented. But no matter how much he loved the high-flying sport, he was just too good at golf to stay away.
As a senior in high-school, Fowler could choose his path. He had offers from all the top golf schools in the country, but in the end it came down to just two, UCLA and Oklahoma State. Though I hate to admit it, he probably made the right choice in OK State, where the program is second to none.
With talent like his though, not even the big egos and big cowboy hats of the Oklahoma State program could hold him back. He quit school early and joined the Tour, $2.9 million later it looks like it was a pretty damn good decision.
Fowler is a quintessential feel player; instead of relying on mechanics and hours of video, he adjusts his swing based on what he feels and what he sees. It's the product of growing up on a range, and of learning how to hit the ball without anyone there to tell him what to do or how to do it. This method has worked well for Fowler, he is creative with his shot making and shaping, and his ball flighting skills are unmatched (you already used "second to none"). He hits the shot he wants to hit, when he wants to hit it. It's as plain as that. There are no "shoulds" in how he approaches the game of golf. He plays the game on his own terms, just like you and I except he is way better, wears cooler clothes, makes more money, and has a much worse haircut.