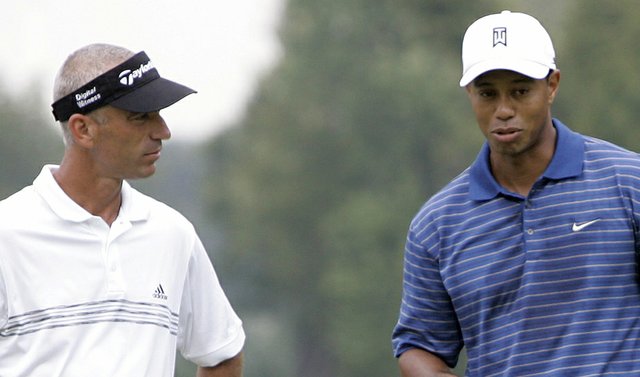 Corey Pavin is in a position that no Ryder Cup Captain has ever been in before, and that no Ryder Cup Captain will likely ever be in again. The question is this: Should I use a captain's pick on the number one player in the world?
Never before has a world number one, from either the U.S. or Europe, not automatically qualified for the Ryder Cup. And never before, at least to my knowledge, has a world number one played so poorly for so long.
There are two schools of thought in picking Ryder Cup players. You pick the best players, and play the averages. Or you pick the players riding hot streaks, throw your chips on the table, and hope the streak lasts through October 3rd.
Monty, straddled the fence. Molinari won last week on the European Tour in an impressive fashion. In Monty's eyes, that qualified as a hot streak, so he picked him. Paddy hasn't won in years, but he was unquestionably one of the best and most consistent players over the last five years. You don't stumble on three major championship trophies without being pretty damn good. So Monty used that as justification. And Luke Donald? Donald is both steady and hot. A good combination and a great pick.
What Pavin does with Tiger is somewhat similar to the choice Monty had with Padraig. A great player, unquestionably, but one who has lost form as of late.
If I were Captain, I'd pass on Tiger.
Why? Because when his empire crumbled last Thanksgiving, Tiger Woods, the Titan, became Tiger Woods the man. With his mythological status stripped away, Tiger Woods became beatable. His confidence that he could rule the golfing world was shattered like the rear window of his Cadillac Escalade.
And now, no matter how much they like the guy, every man in the golfing world wants to be the one who toppled the Titan. Even in a Ryder Cup, where pride and love of country is on display in full force, I can think of no fewer than 12 men that would relish the chance to go toe to toe with the best.
2010 has been the first year in a decade and a half where Tiger Woods has not won a golf tournament. And last time he was really in contention at a PGA event, the 2009 PGA Championship, he lost to a guy from South Korea who no one had heard of a week before. There is blood in the water, and I'm sure the Europeans are licking their lips at a chance to take down Tiger.
And for the US Team there has always been a Tiger and the rest of us mentality. Although he is dangerously good a singles play, Tiger has been human in team play. In Tiger's absence there seems to have been a great deal of camaraderie developing on the Tour. I mean it really seems like the young guns love playing the game with each other. There is healthy competition and they make it look fun. That is the sort of excitement and enthusiasm that Tiger lacks. And it just happens to be the trait of a great Ryder Cup player.
Non-golf factors also play a role. Tiger has always drawn bigger crowds and more media than any other player. But now-a-days the media are more interested in his personal life than his on course accomplishments. Clearly this has been distracting for Tiger, and it will likely have the same effect on his teammates. Now that the divorce is final, the time may soon come where the media care more about Tiger's swing than Tiger's swinging. But were not there yet.
Regardless of whether or not Pavin chooses to use a Captain's pick for Tiger Woods, he will go down in history as a much better Tour player than Ryder Cup player. I think that the time has come to accept this, and leave Tiger on the bench this time.